Ouranos is the god of the Skies. His Roman equivalent is Caelus. He is one of the Protogenoi.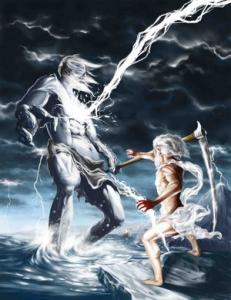 Different Parent beliefs
Edit
Ouranos's name means sky or air in Greek. Most Greeks consider Ouranos's parent Chaos. Many Americans that have learned about Greek mythology, believe that Gaia is the parent of Ouranos, but this is believed by very few Greeks. Very few Greeks believe that Nyx is his parent.
Early Life
Edit
In the Olympian creation myth, as Hesoid tells it in Theogany, Ouranos came every night to cover the earth and mate with Gaia, but he hated the children she bore him. Hesiod named their first six sons and six daughters the Titans, the three one-hundred-armed and fifty-headed giants the Hecatonchires, and the one-eyed giants the Cyclopes.  
{type image/and///[ggo'as/]\hi\]Hephaestus stub